As reported by 知识产权界, two Guangdong firms were recently sanctioned for filing 'abnormal' patent applications. On January 18, 2021, the Guangdong Administration for Market Regulation sanctioned Shenzhen Dejin Intellectual Property Agency Co., Ltd. (深圳市德锦知识产权代理有限公司) for filing an abnormal Chinese application.  On December 28, 2020, the Guangdong  Administration Administration for Market Regulation also sanctioned Guangzhou Sino Patent and Trademark Office Co., Ltd. (广州新诺专利商标事务所有限公司) for filing 26 abnormal Chinese patent applications.  Abnormal patent applications usually refer to  multiple patent applications filed by the same applicant with obviously same content or patent applications that obviously copy prior art, existing patents and/or published patent applications.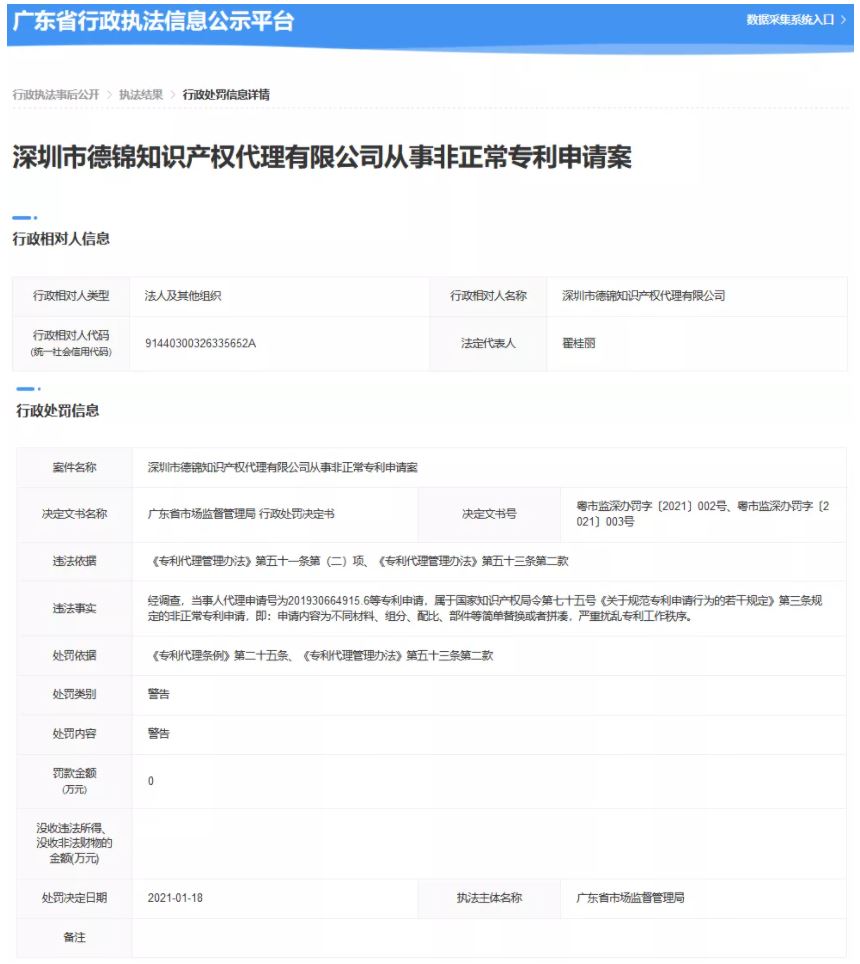 More specifically, Dejin was sanctioned for filing patent application number 201930664915.6 and other patent applications. The Guangdong Administration stated that "the content is simple replacement or patchwork of different materials, components, ratios, parts, etc., which seriously disrupts the order of patent work."  However, Dejin was only warned and not fined.
In contrast, the  Guangdong Administration fined Sino 30,000 RMB (~$4,600 USD) for filing 26 abnormal patent applications. Details about why the applications were judged to be abnormal were not released. 
This continues China's Blue Sky program to rectify the intellectual property industry.  However, it is unclear if warnings and relatively low fines will be sufficient to rectify the industry.