The Shenzhen Nanshan District People's Court recently ruled in favor of plaintiff Shenzhen Tencent Computer System Co., Ltd. (深圳市腾讯计算机系统有限公司) in their claim for copyright infringement  against Shanghai Yingmou Technology Co., Ltd. (上海盈某科技有限公司) for an article written by the artificial intelligence (AI) software Dreamwriter. 
On August 20, 2018 , the plaintiff first published on the Tencent Securities website a financial report article titled "Lunch Review: Shanghai Index rose slightly by 0.11% to 2691.93 points led by telecommunications operations, oil extraction and other sectors."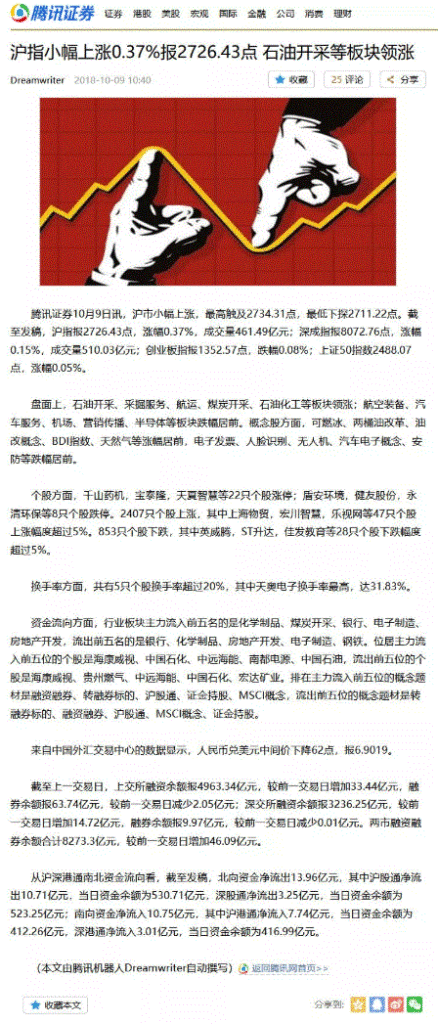 Tencent personnel used the Dreamwriter AI to draft the article and  when the plaintiff published the article on its website, it stated that the article was automatically written by the Tencent Dreamwriter AI.  The defendant, Shanghai Yingmou Technology Co., Ltd., disseminated the same article to the public through a website operated by the defendant on the same day the plaintiff published the article.
According to the Legal Daily, the Court stated, the Tencent team members used the Dreamwriter software to generate the article at issue and met the legal requirements to be a written work and accordingly was a legal person's work created by the plaintiff. Accordingly, the Court ordered the defendant to compensate plaintiff for economic losses and fees associated with the enforcement.
This is believed to be the first copyright case in Guangdong Province related to AI-generated works.