On September 14, 2020, the European Union (EU) and China signed a bilateral agreement  to protect 100 European Geographical Indications (GIs) in China and 100 Chinese GIs in the European Union against usurpation and imitation.  A GI is a distinctive sign used on products that have a specific geographic origin and possess qualities or a reputation that are due to that origin.  Following the signature of the agreement and the European Parliament consent, it will officially be adopted by the European Council. The agreement is expected to enter into force at the beginning of 2021.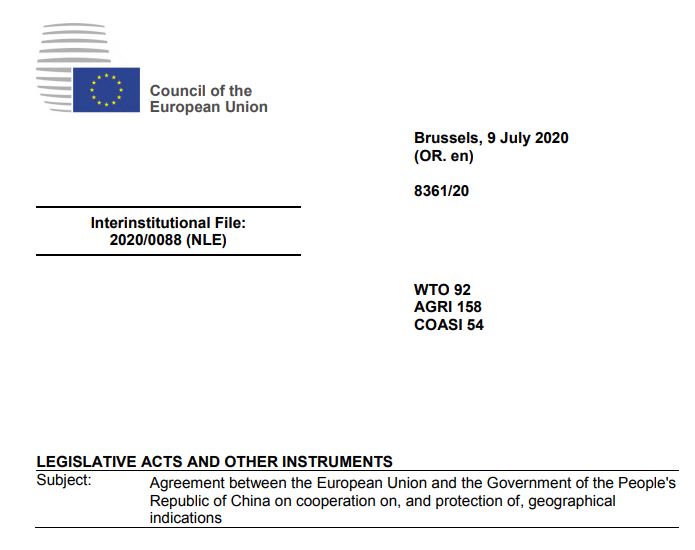 The EU list of GIs to be protected in China includes iconic GI products such as Cava, Champagne, Feta, Irish whiskey, Münchener Bier, Ouzo, Polska Wódka, Porto, Prosciutto di Parma and Queso Manchego. Among the Chinese GI products, the list includes for example 普洱茶 (Pu'er Tea), 福州茉莉花茶 (Fuzhou Jasmine Tea), 绍兴酒  (Shaoxing Rice Wine) and the ever-popular 茅台酒(贵州茅台酒)(Moutai Liquor/Kweichow Moutai Liquor).
Four years after its entry into force, the scope of the agreement will expand to cover an additional 175 GI names from both sides. These names will have to follow the same approval procedure as the 100 names already covered by the agreement (i.e. assessment and publication for comments). The agreement also includes a mechanism to add more geographical indications thereafter.
More than 3,300 EU names registered as geographical indications and around 1,250 non-EU GIs are also protected within the EU, thanks to similar bilateral agreements such as this one with China. These agreements also protect EU GIs in partner countries: some 40,000 instances of protection of EU GIs around the world.