On January 28, 2021 the China National Intellectual Property Administration (CNIPA) released detailed 2020 Chinese intellectual property statistics but, contrary to prior practice, failed to released patent application filing data for the December 2020 period or the 2020 calendar year as a whole. November 2020 data showed an almost 33% jump in invention patent application filings month-on-month and cumulative invention patent applications filings in 2020 had already exceeded 2019's total filings.  Most notable though in the released data was a 50% jump in utility model patent grants in 2020 versus 2019.  Patent Cooperation Treaty (PCT) applications were up 18%, likely ensuring that China will remain the top PCT user in 2020..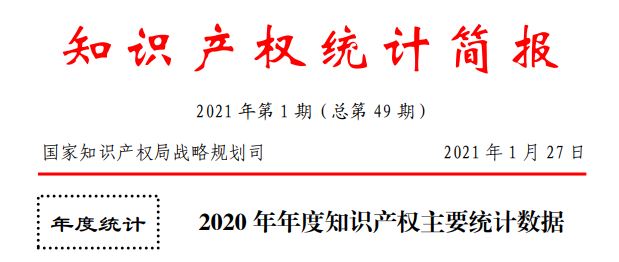 More specifically, there were 530,127 invention patent applications granted in 2020 (versus 452,804 in 2019).  Of those, 79.7% were domestic patentees and the balance foreign. There were 2,377,223 utility model patent applications granted  in 2020 versus 1,582,274 in 2019.  Only 0.4% of the utility model patentees were foreign.  There were 731,918 design patents granted in 2020 (versus 556,529 in 2019).
PCT applications were up over 18% in 2020 with 72,349 PCT applications accepted (versus 60,993 in 2019).
This year-on-year jump in filings and grants may start decreasing in 2021 as all patent subsidies are to be cancelled by 2025 with subsidies payable in the application stage to be canceled by June 2021.
No reason was provided for the absence of 2020 filing data. The released statistics (including for trademark) are available here: 2020FinalData (Chinese only).
Historical charts follow.