On June 21, 2021, the Shanghai Intellectual Property Court  rendered the first-instance judgment on the Court's first case of design patent infringement involving a graphical user interface (GUI), holding that the interface of the defendant Shanghai Zecao Co., Ltd.'s allegedly infringing Xiaobao APP for recruiting employees and the Xiaobao social media account  was significantly different from the overall visual effect of the patent in question of the plaintiff, Dajiaying Company, and therefore dismissed all claims of the plaintiff.   China began to grant patent protection to designs that include GUIs in May 2014.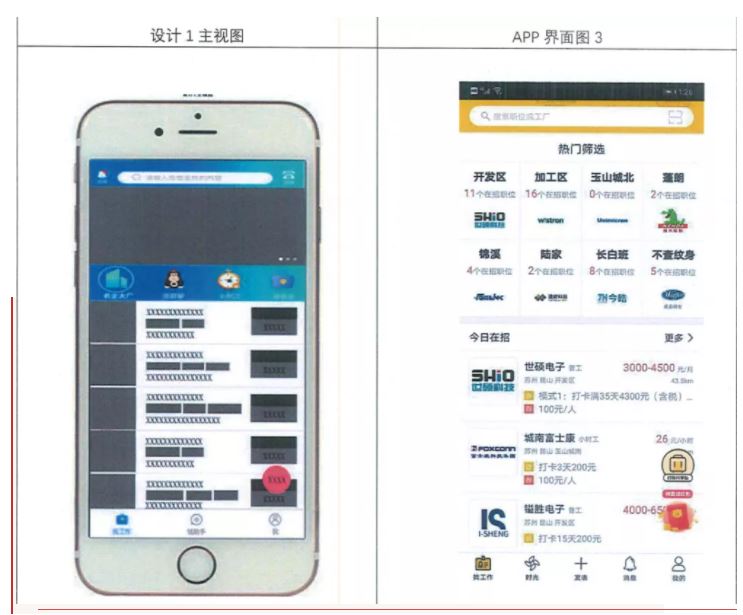 The plaintiff, Dajiaying, applied for a design patent entitled "Graphical User Interface for Mobile Phones" on January 25, 2019, which was granted on October 25, 2019. The patent number is ZL201930044419.0, which is in effect.  
The Shanghai Intellectual Property Court held:
The focus of the dispute in this case is whether the overall visual effect of the accused infringing interface and the design patent involved are similar to each other.

Compared with the design  patent in question, the search bar, the employment information introduction bar, functional options, popular selection conditions, the recruitment information list and the bottom functional options of the alleged infringing graphical interface are arranged in descending order. The layout and design differences between the two are relatively large:

1. The display of the search bar is different between the two;

2. The two function option bars are displayed differently;

3. In the recruitment information list, the accused infringing interface is displayed in two columns on the left and right, and the patent involved is displayed in three columns;

4. The number of options for the bottommost pinned functions and the shape of the icons differ. There is also the aforesaid difference when comparing the images of different phases of the accused infringing interface with the design patent in question.

According to the overall observation and comparison method based on comprehensive judgment, neither the accused infringing interface nor the overall visual effect of the patent in question were similar, nor were any two parts identical or similar. The alleged infringing interface did not fall into the scope of protection of the design patent involved in the case, and all of the plaintiff's claims shall be rejected.