The inauguration of Joe Biden as the 46th president of the United States took place on January 20, 2021. However, Chinese  companies have been applying for his name as a trademark as far back as 2004. Trademark applications increased significantly as the election race heated up in 2020 with 18 trademarks applied for in 2020 for Biden in English.  The Chinese transliteration of Biden – 拜登 – was also popular with a 108 trademark applications in total (with 20 of them in 2020).
Some of the more recent interesting trademark applications include Biden or 拜登 for alcoholic beverages (class 33), perfume and cosmetics (class 3), hotels (class 43), and marriage introductions (class 45).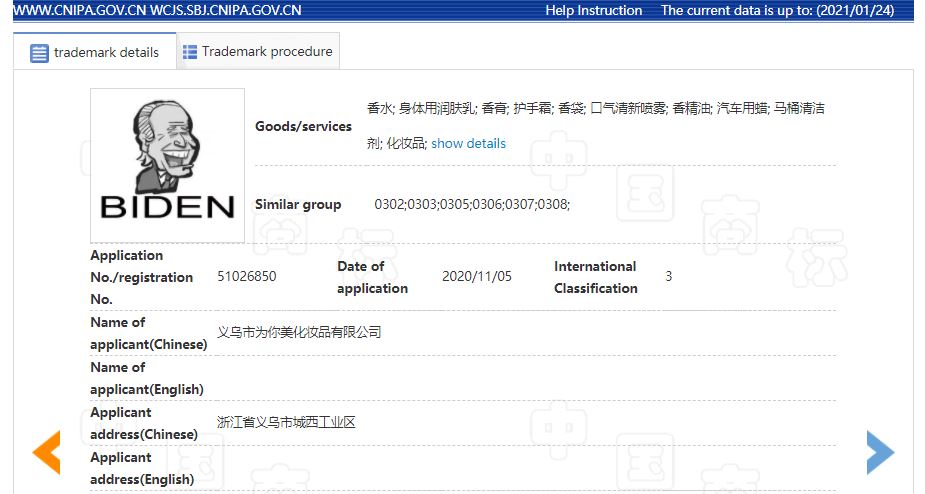 Pending registrations will probably get rejected for violating Article 10 (8) of the Chinese Trademark Law, which prohibits registering marks that are harmful to socialist morals and customs or have other adverse effects.  However, those that were already registered are still valid.
Note that both trademark applicants and trademark agencies that filed these marks risk both fines and administrative punishments.  For example, the China National Intellectual Property Administration (CNIPA) in conjunction with local Market Supervision Bureaus have been punishing agencies and applicants for malicious registration of coronavirus-related trademarks and might do the same here.