On June 10, 2021, the China National Intellectual Property Administration (CNIPA) issued the Notice of the CNIPA on the Participation of the Patent Agent Qualification Examination by Foreigners in Pilot Areas for Patent Agency (国家知识产权局办公室关于专利代理对外开放试点地区的外国人参加专利代理师资格考试的通知) announcing that foreigners who work or study within the pilot areas of Beijing, Suzhou, Nanjing, and Guangzhou can take the next patent bar examination. This implements last year's announcement by China's Ministry of Commerce stating that foreigners that reside in Beijing, Tianjin, Shanghai, Chongqing (21 municipal districts including Fuling District), Hainan, Dalian, Xiamen, Qingdao, Shenzhen, Shijiazhuang, Changchun, Harbin, Nanjing, Hangzhou, Hefei, Jinan, Wuhan, Guangzhou, 28 provinces and cities (regions) including Chengdu, Guiyang, Kunming, Xi'an, Urumqi, Suzhou, Weihai, Hebei Xiong'an New District, Guizhou Gui'an New District, and Shaanxi Xixian New District will eventually be able to take the exam.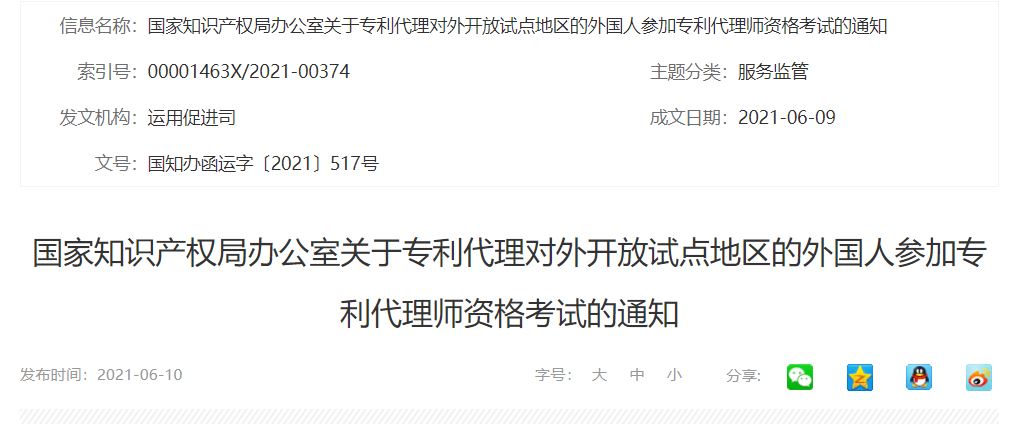 According the Notice, the requirements to take the examination include:
  (1) Having full capacity for civil conduct;

  (2) Obtain a permanent residence permit for foreigners issued by the Chinese government;

  (3) Having the qualifications of patent attorneys in other countries or regions;

  (4) Be able to participate in the Patent Attorney Qualification Examination in Chinese.
Unfortunately, the second requirement will make it likely few, if any, foreigners will qualify. Criteria for permanent residence include an investment in a business of at least $500,000 to $2 million USD (depending on location in China and industry); hold a high managerial position in China at specific institutions or companies for at least four consecutive years; make a great and outstanding contribution to China or being specially needed by China; or being a spouse or unmarried child of a person qualified based on the above. Other paths are based on familial relationships to Chinese. Only a few hundred of these "Chinese green cards" are issued annually.
The next examination is expected to take place in November 2021 per the Ministry of Human Resources.
The full text of the Notice is available here (Chinese only).